News
Alumnae News
THE ALUMNAE ASSOCIATION'S NEW ADDRESS IS:
PO BOX 2458, PHILADELPHIA, PA 19147.
Attention Class Reunion Planners: Please email us at admin@westcatholicgirlsalumnae.com with the details of your upcoming reunion plans and we will post them on this web site and in the Harvester. Include the contact information you would like to see posted.
Alumnae Association: The Alumnae Board is comprised of representatives from various classes. We meet on the 2nd Sunday of each month from September through May. The Board would like to expand and welcomes any graduate who would like to join. Our By-Laws allow for up to 6 members from each class. If you are interested, please contact Kathleen Buchanan, 215-980-8855 or send an email via this website, admin@westcatholicgirlsalumnae.com We look forward to hearing from you.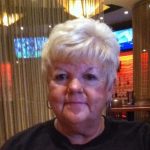 Congratulations to Bette McGrath Diedrich, Class of 1965 on receiving the Margaret Porter Blue and Gold Award at the Alumni Communion Breakfast on Sunday, April 30, 2023. Bette was recognized for her ongoing tireless support of both the Alumnae and the Alumni Associations, as well as West Catholic Prep. We thank you Bette for your hard work, You are deserving of this honor.
West Catholic Prep's new Principal. Michael Fields was appointed Principal effective April 18, 2023. Mr. Field has been at West for the past 7 years and previously served as Campus Minister and Assistant Principal of Acedemic Affairs. He also served as Interim Principal from may through November 2022 and again from February to April 2023. Congratulations.
2023 Spring Luncheon and Fundraiser: This year our Spring Luncheon was held on Sunday, April 23, 2023, from 12 Noon to 3PM at The Springfield Country Club, Springfield, PA. Over 120 Alums and guests attended for a fun filled afternoon. We had a Chinese Auction of gifts baskets donated by our Board members, a 50/50 drawing, and a special prize drawing for a Phillies Package, valued at $1000 that included 2 seats in the Diamond Dugout behind home base, food and drink and free parking. The drawing of the winners for the Fall Scholarship Chance Drive was also held.
The winners were:
1st Prize of $1000 Sister Mary Ann Basile, Class of 1946
2nd Prize of $500 Mary Ann Kusner, Class of 1959
3rd Prize of $300 Maureen Lutz Bullwinkle, Class of 1970
Phillies Package Kathy Maloney, Class of 1973
93rd Annual Communion Breakfast: This year's Communion Breakfast was held on Sunday, October 23, 2022, at The Oaks Ballroom, 511 W. Oak Ave, Glenolden, PA. The 11AM Mass was celebrated by Monsignor Robert Carroll and Anne Datte again provided the music for the mass. The chairwoman for the event was Roe Cipollone Mitchell, Class of 1967. Congratulations Roe for a successful and pleasant event. We had the honor of hearing from one of our Alumnae Scholarship Students, Kayla James, who told us what her West Catholic education meant to her. Thank you, Kayla and Mrs. James, for joining us. Our chance drawing was held after the luncheon. The winners are listed below.
1st Prize of $1000–Mary Simpson Ford, Class of 1964
2nd Prize of $500–Betty Chiorazzi Dougherty, Class of 1954
3rd Prize of $300–Barbara Fagley Swain, Class of 1955
Congratulations to the winners and thank you to everyone who supported the Alumnae Association by attending the Mass and Luncheon and/or purchasing the chances.
West Catholic Night at the Phillies Come out and join your friends and fellow classmates for a West Catholic Night at the Phillies and see the Philiies vs the Padres on July 14, 2023, game time 6:05PM. The game will be followed by fireworks. For tickets go to www.phillies.com/WestCatholicPrep.
The Executive Board of the West Catholic Girls' Alumnae Association needs your help. Many of The Harvester newspaper mailings have been returned to our P.O. Box as "undeliverable". The Harvester is published twice a year which keeps us informed with our classmates, our school and other news affecting the Alumnae. These returned Harvester mailings have made an impact on our resources. Therefore, if you have relocated, please inform the Alumnae via this website email, admin@westcatholicgirlsalumnae.com your maiden/married names, graduation year, current address and current email. Your cooperation is greatly appreciated.
Burrs at the Beach This event will be back for 2023. It was held on Sunday, June 25,2023 at Keenan's in North Wildwood from 1-6PM.
Alumnae Gifts for Sale
All West Catholic Alumnae gift items can be purchased by mailing a check payable to WCGAA to Mrs. Rosalie McNeff, 5 Park Ave, Norwood, PA 19074. Rosalie can be reached on 445-800-5023 or by email, mcneffr@yahoo.com. If ordering more than one item, please check with Rosalie first as combined shipping may reduce the postage.
All items are also sold at all West Girls' Alumnae events.
ANNOUNCING 2 NEW ITEMS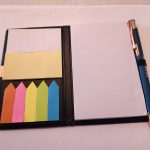 A 3×5 notebook and matching pen set. The cover of the notebook is a medium shade of blue with a matching pen. Both are imprinted with WEST CATHOLIC GIRLS ALUMNAE ASSOCIATION in gold. Inside the notebook is a blank note pad, 2 sets of post-its and 5 color page flags. Cost is $5.00 and the postage is $4.00.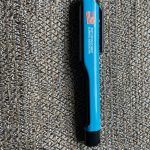 A 7-inch-long stick type flashlight with LED bulbs. The flashlight is blue plastic trimmed in black and imprinted with WEST CATHOLIC GIRLS ALUMNAE ASSOCIATION alongside an American flag. The design includes a pen clip and hole to attach a keychain. Cost is $3.00 or 2 for $5.00 and postage is $4.00.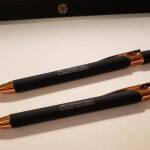 Our pens have WEST CATHOLIC GIRLS' ALUMNAE ASSOCIATION imprinted on them. They are $3.00 each or 2 for $5.00. Postage is $4.00. The original pens are SOLD OUT. Our new pens are Navy Blue trimmed in Rose Gold and are a combination ball point pen and stylus..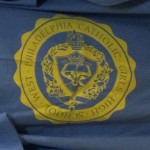 Blankets/ Throws…This is a blue blanket with our seal in gold in the center. This versatile item can be used as a beach blanket or a throw for over a chair, back of the sofa, on the bed, or in the car. The cost is $20.00 plus $8.00 shipping.
Note Cards depicting a sketch of the school are now available. West Philadelphia Catholic Girls' High School is written beneath the sketch of the school. The cards were designed by Michael Venezia, grandson of our Vice President, Mary Maguin Small,'60. Packages of 5 cards are $6.00 plus $4.00 postage.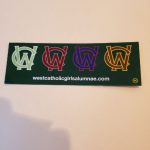 Due to poplar demand we have reordered the 4 emblem magnet. The magnet is still $3.00 plus the $4.00 postage.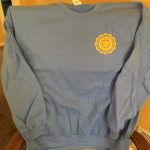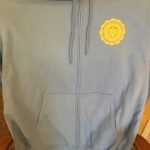 Sweatshirts are now in stock. We have 2 styles to choose from, a regular crewneck and a zippered hoodie. Both are available in our West Catholic Girls' Blue with our seal in gold on the left front of the shirts. The crew neck is $20.00 plus $8.00 postage and the hoodie is $30.00 plus $8.00 postage, Both are available in sizes M, L, XL, and XXL.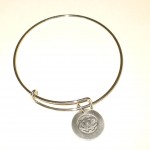 Our popular West Catholic bracelets are back in stock. The bracelets are $12.00 and $4.00 postage. To order your bracelet, send your check made payable to WCGAA to Mrs. Rosalie McNeff, 5 Park Ave, Norwood PA 19074. Rosalie can be reached on 610-532-1827 or 484-467-0918. Her email is mcneffr@yahoo.com. The bracelets are presently SOLD OUT.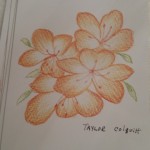 These are just 2 of the note cards designed by the Art Students at WCP, They have designed 6 note cards that are available for sale. The cost is $5.00 plus $4.00 postage. Each pack contains 6 cards, each card is a different design and the cards are blank on the inside. The back of the card is marked "Created by West Catholic Prep Students". To order send a check for $9.00 (includes $4.00 postage) to Mrs. Rosalie McNeff, 5 Park Ave, Norwood, PA 19074. SOLD OUT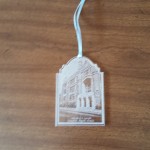 Our latest gift item is a clear Lucite ornament with a picture of the school and engraved with the words, "West Catholic Girls High School". The ornament is $10.00 and can be ordered by sending a check for $14.00 (includes $4.00 shipping cost) to Mrs. Rosalie McNeff, 5 Park Ave, Norwood, PA 19074. SOLD OUT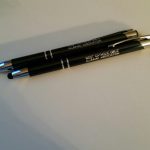 Original metal pens SOLD OUT
West Catholic Girls' History

Original West Girls' Seal…We have located and purchased the original drawing of our school seal. Thanks to Hannah Dougherty Campbell, '69 for locating this on Ebay. The drawing of the seal along with the original envelope post marked 1930 and addressed to Rev. Burns, the first principal of the school was placed on Ebay after it was found in a box of papers purchased at an auction in Lancaster. It is a mystery who had it and how it left the school. The seal has been framed and presented to the school, where it will be displayed.

1936 HOW and WHAT Handbook…This book was also found on Ebay. It appears to be a handbook for new students on how to find their way around the building and also what is expected of them as students.
School News
If you're looking for what's happening at West Catholic Prep, you can access their website at http://westcatholic.org. You can also find their Facebook page by clicking on the Facebook Icon that appears on each page of their site.
ETC/OSTC If you own a business in the state of Pennsylvania you can help West Catholic. Your business tax can be redirected to the school through the OSTC program. The tax dollars are then used to assist low income families who live within the boundaries of underperforming schools to attend private schools. In addition to helping children get the education they deserve you can write off the contribution on both your State and Federal tax returns.
If you wish to learn more about this program contact Andrew Brady at West Catholic Prep at 610-386-2244.
Alumni News
If you would like to keep abreast of activities and events of our brother schools you can view their websites by clicking on the links below:
For St. Thomas More's Alumni click here. For West Catholic Boys' Alumni click here.