News
Alumnae News
THE ALUMNAE ASSOCIATION'S NEW ADDRESS IS:
PO BOX 2458, PHILADELPHIA, PA 19147.
Attention Class Reunion Planners: Please email us at admin@westcatholicgirlsalumnae.com with the details of your upcoming reunion plans and we will post them on this web site and in the Harvester. Include the contact information you would like to see posted
Alumnae Association: The Alumnae Board is comprised of representatives from various classes. We meet on the 2nd Sunday of each month from September through May. The Board would like to expand and welcomes any graduate who would like to join. Our By-Laws allow for up to 6 members from each class. If you are interested, please contact Kathleen Buchanan, 215-980-8855 or send an email via this website, admin@westcatholicgirlsalumnae.com We look forward to hearing from you.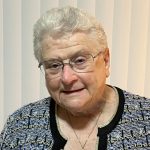 Congratulations to Peggy Henry Glancey, Class of 1955 on receiving the Margaret Porter Blue and Gold Award at the Alumni Communion Breakfast on Sunday, April 24, 2022. Peggy was nominated by the Alumnae Board in recognition of her consistent hard work and support of both the Alumnae and the school. Peggy has been an active member of the Alumnae Board for the past 52 years. Thank you, Peggy, for all your hard work. This award is well deserved.
93rd Annual Communion Breakfast: This year's Communion Breakfast will be held on Sunday, October 23, 2022, at The Oaks Ballroom, 511 W. Oak Ave, Glenolden, PA. Cost is $35.00. Doors open at 10AM with the Mass at 11AM, celebrated by Father Maximilliam Maxwell, OSB. The chairwoman for the event is Roe Cipollone Mitchell, Class of 1967. Mail your check payable to WCGAA to Mrs. Roe Mitchell at 322 Shadeland Ave, Drexel Hill, PA 19026. Please include a note of the names with whom you wish to be seated. Additional details and the reservation form are in the Fall Harvester.
2022 Spring Luncheon and Fundraiser: Our Spring luncheon is back!! It was held on Sunday, March 27, 2022, from 12:30 to 4:30 at The Oaks Ballroom, 511 W, Oak Ave, Glenolden PA. Approximately 125 Alumnae signed up to enjoy a fun afternoon. We had a DJ playing Motown tunes, a silent auction of great baskets, a 50-50 drawing, chances for a very special prize, and a cash bar. Our gift items were available for sale and Rosalie McNeff reports many items were purchased. The special prize was 2 tickets for a Phillies game with seats in the Diamond Dugout behind home base, food and drinks for the evening and free parking. This prize, valued at $1000, was given to Sr. Denise Ware, SFCC, Chairwoman of the event, to chance off at the fundraiser. The winner was Nancy Adorno Dunn, Class of 1969.
The winners of the Scholarship Fundraiser tickets were:
1st Prize of $1000–Kathryn Duncan Fredericksdorf, Class of 1960
2nd Prize of $500–Carolyn Keenan, Carolyn is the Granddaughter of Nancy Coll Gibbons, Class of 1950
3rd Prize of $300–Mary Burton Donovan, Class of 1962
Thank you to everyone who supported this event and/ or purchased the tickets.
Attention Members of the Classes 1971, 1972, 1973, and 1974 Were you a participant in the LOOK or Project Understanding? A group of Alumnae are meeting with faculty who founded and taught in the program for the purpose of planning a Fall 2022 reunion to celebrate 50+ years since the program. The reunion will provide an opportunity to reconnect and share memories and reflections of what the program meant to the participants. Please contact Jacque Farrell-Mulholland, '71, jacquemulholland@gmail.com, Kate Ward-Gaus, '71, katewardgaus@outlook.com or Lisa Bacon, '74, ltbacon@comcast.net if you were part of the program and interested in receiving information about the reunion. UPDATE: The 50th reunion of the participants of this program will be on Sunday, October 9, 2022, from 11 AM to 4PM at West Catholic Prep. Cost is $25 which will cover the cost of the lunch plus a donation to the school. All participants are invited to attend this afternoon of conversations with former classmates and teachers and share memories and reflect on what the program meant to them. RSVP to Jacque Farrell Mulholland, '71 at jacquemulholland@gmail.com or 704-608-2525 OR Kate Ward Gaus'72 at katewardgaus@outlook.com or 215-704-3231. This event is SOLD OUT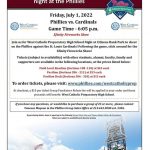 West Catholic Night at the Phillies: Friday, July 1, 2022 6:05 PM Phillies vs Cardinals with Fireworks after the game. Come join your fellow alums for an evening of baseball and fireworks. Tickets are $43 for Field Level Baseline, Sections 108-110; $33 for Pavilion, Sections 206-211 and $13 for Pavilion Deck, Sections 306-310. Tickets can be ordered at www.phillies.com/westcatholicprep. At checkout a $10 per ticket Group Fundraiser Rebate fee will be applied to your order and those proceeds will benefit West Catholic Preparatory High School. A copy of the flyer is on West Catholic Alums Facebook page.
The Executive Board of the West Catholic Girls' Alumnae Association needs your help. Many of The Harvester newspaper mailings have been returned to our P.O. Box as "undeliverable". The Harvester is published twice a year which keeps us informed with our classmates, our school and other news affecting the Alumnae. These returned Harvester mailings have made an impact on our resources. Therefore, if you have relocated, please inform the Alumnae via this website email, admin@westcatholicgirlsalumnae.com your maiden/married names, graduation year, current address and current email. Your cooperation is greatly appreciated.
Burrs at the Beach This event is back for 2022. It was held on Sunday, June 26,2022 at Keenan's in North Wildwood from 1-6PM The event was attended by over 600 alums. Congrats to the team for another successful fundraiser. See you next year at this fun afternoon.
2021 Annual Alumnae Communion Breakfast: Our 92nd Annual Communion Breakfast was held on Sunday, October 24, 2021, at Anthony's of Springfield. The Mass was celebrated by Father Maximillian Maxwell, OSB. Anne Datte provided the music for the mass. The Mass and luncheon were well attended with over 140 in attendance. We were fortunate to have several guests join us Brother Richard Kestler, FSC former President of West, Fran Crowley, President of West Boys' Alumni and Lauren Stager, Director of Institutional Advancement at WCP. Thank you and congratulations to our co-chairs, Kathleen Schultz Buchanan, '66 who made all the arrangements and Sr. Denise Ware, SFCC, '70 for handling all the Mass details and developing and providing the Mass program.
Alumnae Gifts for Sale
All West Catholic Alumnae gift items can be purchased by mailing a check payable to WCGAA to Mrs. Rosalie McNeff, 5 Park Ave, Norwood, PA 19074. Rosalie can be reached on 610-532-1827 or by email, mcneffr@yahoo.com. If ordering more than one item, please check with Rosalie first as combined shipping may reduce the postage.
All items are also sold at all West Girls' Alumnae events.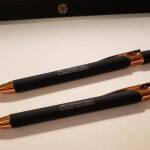 Our pens have WEST CATHOLIC GIRLS' ALUMNAE ASSOCIATION imprinted on them. They are $3.00 each or 2 for $5.00. Postage is $4.00. The original pens are SOLD OUT. Our new pens are Navy Blue trimmed in Rose Gold and are a combination ball point pen and stylus..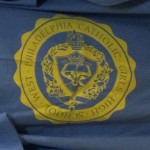 Blankets/ Throws…This is a blue blanket with our seal in gold in the center. This versatile item can be used as a beach blanket or a throw for over a chair, back of the sofa, on the bed, or in the car. The cost is $20.00 plus $8.00 shipping.
Note Cards depicting a sketch of the school are now available. West Philadelphia Catholic Girls' High School is written beneath the sketch of the school. The cards were designed by Michael Venezia, grandson of our Vice President, Mary Maguin Small,'60. Packages of 5 cards are $6.00 plus $4.00 postage.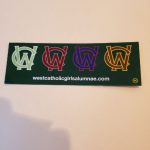 Due to poplar demand we have reordered the 4 emblem magnet. The magnet is still $3.00 plus the $4.00 postage.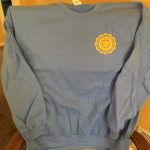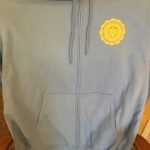 Sweatshirts are now in stock. We have 2 styles to choose from, a regular crewneck and a zippered hoodie. Both are available in our West Catholic Girls' Blue with our seal in gold on the left front of the shirts. The crew neck is $20.00 plus $8.00 postage and the hoodie is $30.00 plus $8.00 postage, Both are available in sizes M, L, XL, and XXL.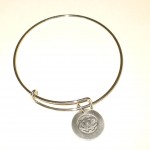 Our popular West Catholic bracelets are back in stock. The bracelets are $12.00 and $4.00 postage. To order your bracelet, send your check made payable to WCGAA to Mrs. Rosalie McNeff, 5 Park Ave, Norwood PA 19074. Rosalie can be reached on 610-532-1827 or 484-467-0918. Her email is mcneffr@yahoo.com. The bracelets are presently SOLD OUT.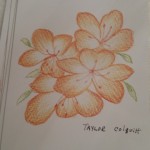 These are just 2 of the note cards designed by the Art Students at WCP, They have designed 6 note cards that are available for sale. The cost is $5.00 plus $4.00 postage. Each pack contains 6 cards, each card is a different design and the cards are blank on the inside. The back of the card is marked "Created by West Catholic Prep Students". To order send a check for $9.00 (includes $4.00 postage) to Mrs. Rosalie McNeff, 5 Park Ave, Norwood, PA 19074. SOLD OUT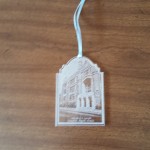 Our latest gift item is a clear Lucite ornament with a picture of the school and engraved with the words, "West Catholic Girls High School". The ornament is $10.00 and can be ordered by sending a check for $14.00 (includes $4.00 shipping cost) to Mrs. Rosalie McNeff, 5 Park Ave, Norwood, PA 19074. SOLD OUT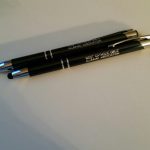 Original metal pens SOLD OUT
West Catholic Girls' History

Original West Girls' Seal…We have located and purchased the original drawing of our school seal. Thanks to Hannah Dougherty Campbell, '69 for locating this on Ebay. The drawing of the seal along with the original envelope post marked 1930 and addressed to Rev. Burns, the first principal of the school was placed on Ebay after it was found in a box of papers purchased at an auction in Lancaster. It is a mystery who had it and how it left the school. The seal has been framed and presented to the school, where it will be displayed.

1936 HOW and WHAT Handbook…This book was also found on Ebay. It appears to be a handbook for new students on how to find their way around the building and also what is expected of them as students.
School News
If you're looking for what's happening at West Catholic Prep, you can access their website at http://westcatholic.org. You can also find their Facebook page by clicking on the Facebook Icon that appears on each page of their site.
ETC/OSTC If you own a business in the state of Pennsylvania you can help West Catholic. Your business tax can be redirected to the school through the OSTC program. The tax dollars are then used to assist low income families who live within the boundaries of underperforming schools to attend private schools. In addition to helping children get the education they deserve you can write off the contribution on both your State and Federal tax returns.
If you wish to learn more about this program contact Andrew Brady at West Catholic Prep at 610-386-2244.
Alumni News
If you would like to keep abreast of activities and events of our brother schools you can view their websites by clicking on the links below:
For St. Thomas More's Alumni click here. For West Catholic Boys' Alumni click here.