Alumnae News
 THE ALUMNAE ASSOCIATION HAS A NEW ADDRESS.  OUR NEW ADDRESS IS PO BOX 805, BROOMALL, PA 19008.
Attention Class Reunion Planners:  Please email us at admin@westcatholicgirlsalumnae.com with the details of your upcoming reunion plans and we will post them on this web site and in the Harvester. Include the contact information you would like to see posted
Alumnae Association:  The Alumnae Board is comprised of representatives from various classes.  We meet on the 2nd Monday of each month from September through May.  The Board would like to expand and welcomes any graduate who would like to join.  Our By-Laws allow for up to 6 members from each class.  If you are interested, please contact Pat McLaughlin on 610-544-0708 or send an email via this website, admin@westcatholicgirlsalumnae.com  We look forward to hearing from you.
2018 Annual Spring Luncheon and Fundraiser…Mark your calendars. Our annual Spring Luncheon will be held April 22, 2018 at the Porch at Lamb Tavern, 865 W. Springfield Rd, Springfield, PA 19064 from Noon to 4PM.  Cost is $35.00 per person. There will be raffles and door prizes and a special drawing to get you ready for those lazy, hazy, crazy days of summer and the beach. Our co-chairs, Roe Cipollone Mitchell, '67 and Rose Frank, '61 encourage you to get in the mood, come in summer clothing, sandals, flip-flops, capris, beach hats. Deadline is Monday, April 9th.  Send you check payable to WCGAA to Rose Frank, 79-3 Drexelbrook Drive, Drexel Hill, PA 19026. And as always our West Catholic Girls' gift items will be available for sale.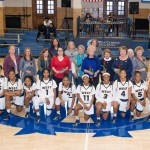 Alumnae Appreciation Day…The West Girls' Basketball Team, "The Lady Burrs", held an Alumnae Appreciation Day on Saturday, January 20, 2018 in conjunction with their games with Westtown High from Chester County.  The Junior Varsity and Varsity teams both won their games, the Junior Varsity team won by 51-8 and the Varsity team's game was 64-45.  At half time all Alumnae in attendance were recognized by the team, each lady was presented with a red rose by a member of the team.  After the game a reception was held in the Learning Commons.  Thank you and congratulations to the team, the coaches, and the Administration at WCP.  Pictures from the day were posted on the West Catholic Alums Facebook page by Tom McGinn.
2017 Annual Alumnae Communion Breakfast:  Our 89th Annual Communion Breakfast was held on Sunday, October 22, 2017 at Drexelbrook , 4700 Drexelbrook Drive, Drexel Hill, PA 19026.  The mass was celebrated by West Catholic Grad, Father Maximllian Maxwell, OSB. Father traveled from Latrobe, PA to be with us. Diana Nerri provided the music for the mass.  Because of the generosity of our Alumnae members we were proud to present 2 checks to WCP.  A check for $500 was given to the LaSallian Interact community service group, this student group provides meals for the homeless, visits and help out at the Ronald McDonald House, along with other good deeds for the West Philadelphia community. The second check for $5000 was given to Principal Kelly Lanza to be used for the ongoing mission of the school.
CONGRATULATIONS to three chance ticket winners. Mary Marker Giove, Class of 1966 held the $1,000 1st prize winning ticket at the 2017 Communion Breakfast;  2nd prize winning ticket of $500 went to Martina Rominger, Class of 1944 and 3rd prize winning ticket of $300 went to Louise Blount, Class of 1955.
2017 Spring Luncheon:  Our annual spring luncheon was held Sunday, April 9, 2017 at the Heritage Ballroom in Holmes, PA (next to Barnaby's).  The theme of this year's event was "In Your Easter Bonnet".  76  alumnae and their guests attended the event.  A contest was held for "Easter Bonnets", a couple of attendees served as Judges and 6 winners were choosen the Most Patriotic, Comical, Prettiest Hat, Creative and Special categories. You can view pictures of the winners along with several others in our Parade of Hats on the Gallery page of this website.  We also had a raffle for baskets of cheer and goodies and bottles of wine.  Special thanks to Chairperson, Peg Rhoades '71, Hannah Campbell '69, Rosalie McNeff '61, Betsy Cunningham '61 and Kirsti Bradford '74 for a job well done.  Everyone enjoyed a fun filled afternoon.
Century of Excellence Gala.  Thanks to all of you who came to help West Catholic celebrate 100 years of Catholic Education.  This milestone event, A Century of Excellence was celebrated on May 6, 2017 at the Springfield Country Club, 400 W. Sproul Rd, Springfield, PA.  The evening was a fabulous success with over 350 alums and their guests in attendance.  Congratulations to the Chairwomen Jessica Wolf Dasher, Tia Noelle Pratt and Kay Kidwell for a job well done. The beautiful Tribute Book given as a souvenir of the evening was complied by Lisa Hibbard. Everyone also received a WC coaster carved and made by the Engineering students. Pictures of the event can be seen on the West Catholic Alums Facebook page and the video shown that evening is posted on You Tube.  More information on the event can be found on the school's website, www.westcatholic.org.
Congratulations to Josephine B. Pasquarello Delaney, Class of 1967 on publishing her book Love & Loyalty.  If you wish to contact Josephine, her email is josephinebpasquarello@gmail.com.
The Alumnae Association proudly congratulates Helen Sheridan, '55 on receiving the Margaret Porter Blue and Gold Award at the Alumni Communion Breakfast, Sunday, April 23, 2017.  Helen was honored for her dedication to Catholic Education and her ongoing support of the Alumnae Association and WCP.  Helen spent many years educating and mentoring young students at both West Catholic and Bishop Shanahan High Schools. Helen has given many years to the Alumnae Association and served as President from 2008-2012. Helen can add this award to the many others she has received for her work and dedication.  She received the Honor of the Pope from Pope John Paul II for her service to the church and received the Catholic Educator Award in 2002 from West Catholic and she is a member of the West Catholic Hall of Fame.  Helen, we are proud of you and grateful for all you do for the Alumnae and West.  Thank You.
Congratulations are also extended to Tia Noelle Pratt, PhD, Class of 1995 on receiving the Brother Martin Strickroth Award.  Tia has many accomplishments since her years at West, where she was a member of the National Honor Society, Community Service Corps, Yearbook staff, and Cheerleading team.  Dr. Pratt is currently a professor at St. Joseph's University and a member of the West Catholic Board of Directors where she serves on the Academic Affairs Committee and is the founding chair of the Inclusion and Diversity Committee.  She also works with the students at West on the Black Student Union.  Dr. Pratt is a successful West Catholic grad who is very deserving of this award.  Thank you Tia for all you do for your Alma Mater.
West Catholic Girls' History

Original West Girls' Seal…We have located and purchased the original drawing of our school seal.  Thanks to Hannah Dougherty Campbell, '69 for locating this on Ebay.  The drawing of the seal along with the original envelope post marked 1930 and addressed to Rev. Burns, the first principal of the school was placed on Ebay after it was found in a box of papers purchased at an auction in Lancaster.  It is a mystery who had it and how it left the school.  The seal has been framed and presented to the school, where it will be displayed.

1936 HOW and WHAT Handbook…This book was also found on Ebay.  It appears to be a handbook for new students on how to find their way around the building and also what is expected of them as students.
 Alumnae Gifts for Sale
Due to a increase in postal rates by the US Post Office, we unfortunately had to raise our shipping charges from $3.00 to $4.00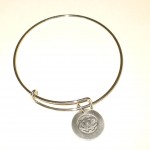 Our popular West Catholic bracelets are back in stock. The bracelets are $18.00 and $4.00 postage.  To order your bracelet, send your check made payable to WCGAA to Mrs. Rosalie McNeff, 5 Park Ave, Norwood PA 19074. Rosalie can be reached on 610-532-1827 or 484-467-0918. Her email is mcneffr@yahoo.com.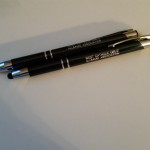 We have added another item to our West Catholic Alumnae store.  We now have pens with WEST CATHOLIC GIRLS' ALUMNAE ASSOCIATION imprinted on them.  The pens are blue metal and are a combination ball point pen and stylus.  They are $3.00 each or 2 for $5.00.  Postage is $4.00.  The pens can also be ordered from Rose McNeff, see her information above.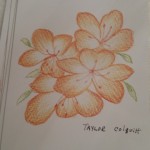 These are just 2 of the note cards designed by the Art Students at WCP, They have designed 6 note cards that are available for sale.  The cost is $6.00 plus $4.00 postage.  Each pack contains 6 cards, each card is a different design and the cards are blank on the inside.  The back of the card is marked "Created by West Catholic Prep Students". To order send a check for $9.00 (includes $4.00 postage) to Hannah Dougherty Campbell, 1325 Robinson Ave, Havertown, PA 19083.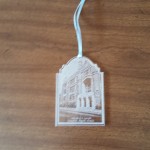 Our latest gift item is a clear Lucite ornament with a picture of the school and engraved with the words, "West Catholic Girls High School".  The ornament is $10.00 and can be ordered by sending a check for $14.00 (includes $4.00 shipping cost) to Mrs. Rosalie McNeff, 5 Park Ave, Norwood, PA 19074.
All of the above items will be sold at our upcoming Communion Breakfast on October 22, 2017.
March 17, 2017… West Catholic was given the honor of being the first high school to participate in the Raising of the Colors at the Irish Memorial, Front and Chestnut Streets, Philadelphia.  Both the Alumnae and the Alumni were invited to attend the celebration.  The day began with 9AM mass at Old St. Joseph's Parish Church, 4th and Willings Alley. Old City Philadelphia and was followed at 11AM by the an event at the Irish Memorial that included the raising of the flags. Both the American and the Irish Republic flags were raised. The event was well attended by West Alums and the ceremony included TV coverage, speakers, Irish dancers, several Irish songs by Tim Kelly and plenty of green apparel.
Courtyard Grotto…The West Alumni Association is heading a project to move the grotto that was at their former building at 49th St to the courtyard at WCP.  There will be a brick pathway to the grotto and they are selling bricks which can be personalized.  There are 3 sizes available: 4×8 with 3lines of text for $100; 8×8 with 6 lines for $150; and 12×12 with 8 lines for $200.  The work should be completed and in place by the end of this year. The seal of the Girls' school is available for placement on your brick.  Visit their website, www.westcatholicalumni.org for a link to order the brick.
Have you lost your class ring?… Rings have been found.  A 1944 ring with the initials of MCS or MCG was found in Puerto Rico.  The second ring is from the Class of 1978 and the name in the ring is Diane Mills. A third ring, this one is from the Class of 1930 and the initials in the ring are MVD.  Also, a Class of 1945 ring with the initials BAM engraved inside. If you think you are the owner of any of these rings, please use the email on this website and let us know.  If we are able to match the ring and the graduate we will help can get your ring back.
Update… The 1978 ring belonging to Diane Mills has been returned to its owner.  Thanks to Claudia Placentra, who found the ring and Diane's sister Barbara O'Neill who contacted us about the lost ring.